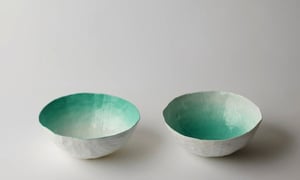 $

30.00
This pair of small paper maché bowls are sold as a set of two. One fades from aqua on the rim to white on the bottom and the other fades from white on the rim to aqua on the bottom.
Thin strips of paper are used to create the forms and give them a lovely texture. These little bowls are great for air plants, rings, keys, etc.
Size: Each are approx. 4 inches across and 1.5 inches high.