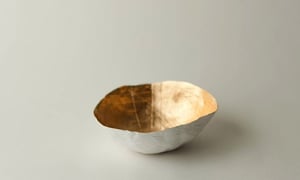 $

24.00
The hand gold leafed interior of this small paper maché bowl makes it almost glow. It looks particularly beautiful in low light.
Thin strips of paper are used to create the form and give it a lovely texture. The gold leaf is sealed so it is protected from normal wear and tear. This little bowl is great for air plants, rings, keys, etc.
Are you getting married? I'd love to make a custom order of these paper bowls for your guests. They look beautiful as a table favor. Just ask me about bulk pricing.
White on the outside, gold leaf on the inside.
Size: approx. 4 inches across and 1.5 inches high.